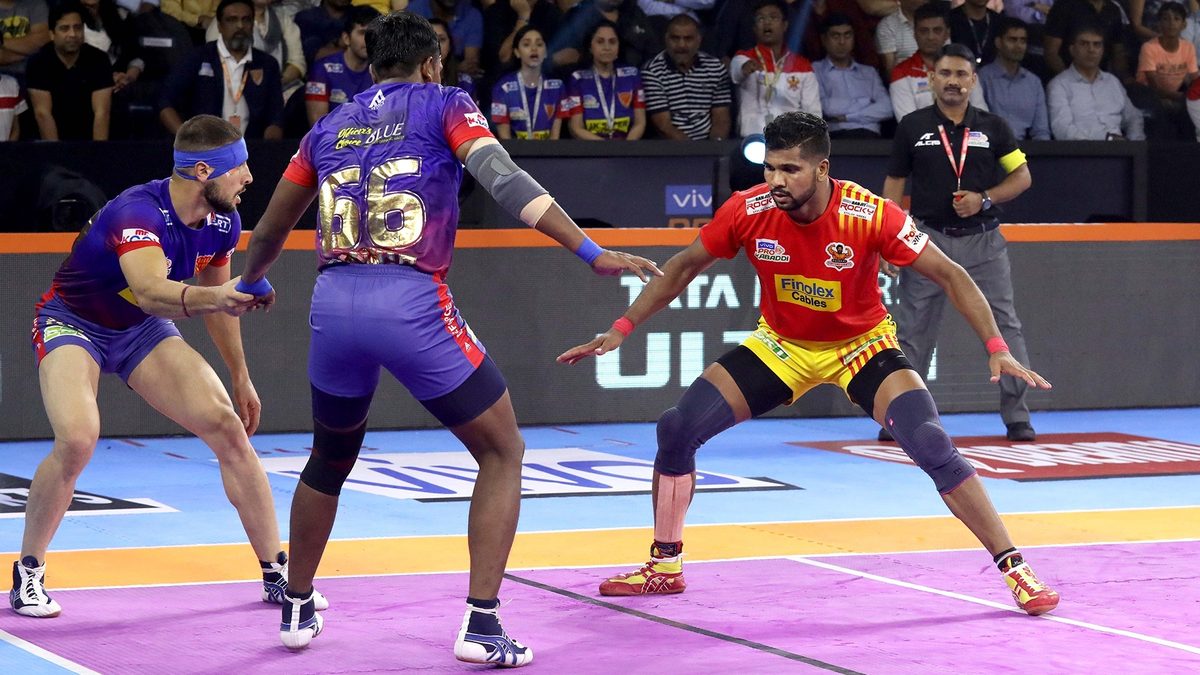 The Giants continued their winning start to VIVO Pro Kabaddi League Season 7, with a 31-26 victory over Dabang Delhi at the DOME@NSCI SVP Stadium in Mumbai on Thursday. With 5 raid points and 4 tackle points, GB More produced a scintillating all-round performance in front of the roaring Mumbai crowd.
Sachin Tanwar and Rohit Gulia started with a bang, as we raced to a 3-0 lead. It appeared to be smooth sailing, however, Dabang Delhi's defence gathered pace instantly after they tackled Sachin and Rohit in successive do-or-die raids.
We were in the lead until the 16th minute, before Naveen Kumar took our raiders Sachin Tanwar, Rohit Gulia and Sonu Jaglan in quick succession to put immense pressure on our defence. Eventually, the Dabangs enforced our first all-out of the game in the 19th minute to take a 12-10 lead. A big moment, as this was the first all-out we suffered all season.
After Chandran Ranjit's two raid points, the Dabangs held on to their lead at half-time with the scoreline reading 14-11. We had a big second half coming up, and a real test of character for our young side.
The Giants came out strongly after the break, with Vijay and Chandran Ranjit both getting tackled instantly. Naveen Kumar looked lethal for the Dabangs with important raid points, but Rohit Gulia took Vishal Mane and Chandran Ranjit in the 25th minute to get us back on level terms at 16-16.
The match kept growing with intensity with both teams running away with easy points. The game changing moment, however, came in the 30th minute when GB More's stunning ankle hold sent Naveen to the bench.
In addition to his defensive exploits, More proved too hot to handle in attack and two vital raid points later, we inflicted Delhi's first all-out of the match. This gave us a handy lead of 25-20, and some much needed breathing space. The Giants firmly took control in the closing stages, and never allowed the Dabangs to close the gap. Parvesh tackled Ranjith in trademark fashion in the final minute as we defeated Dabang Delhi by a five-point margin.
Full Time: 31-26
Defender of the Match: GB More
Game Changer of the Match: GB More
With three wins and 15 points, we face U Mumba at the DOME@NSCI SVP Stadium on Friday.