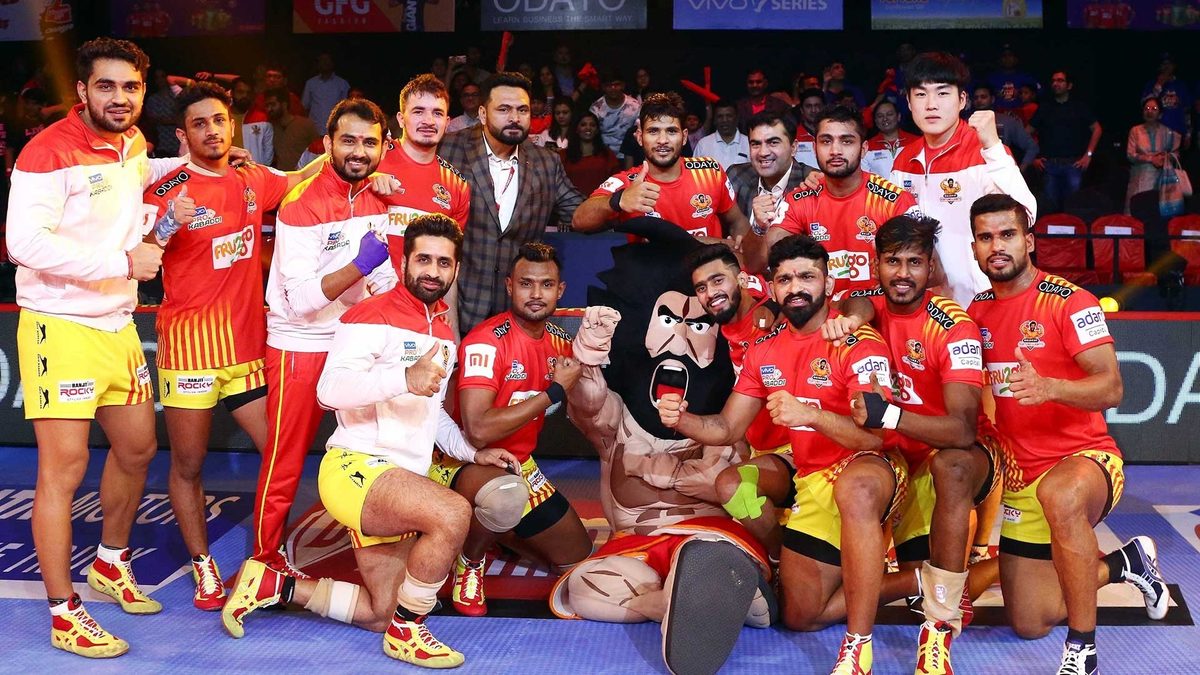 The Match in a Tweet
Another cracker! ✅

Another tense finish! ✅

Result? The same! Victorious again! 😎🔥#GarjegaGujarat #NayaKhoonDugnaJunoon #GUJvUP pic.twitter.com/t0txIFCySa

— Gujarat Fortune Giants (@Fortunegiants) November 18, 2018
Defensive Masterclass
After playing two games in two nights, our Giants went into the game against the UP Yoddha with one change. K Prapanjan was brought back into the line-up replacing Ajay Kumar. Dong Geon Lee went into the first raid with the bonus on and with a swift move was able to get the bonus for us. Sachin Tanwar started the game where he left of yesterday earning 2 quick points.
Our defence which was somewhat shaky yesterday, but that was not the case tonight, as they quickly added 2 tackle points to their tally. Parvesh and Sunil Kumar soon set the tone for the game as they proved too hard to handle for the UP raiders and soon, we were able to inflict an all-out, as we took an early lead of 8 points.
Our raiders were not far behind as they were scoring at will, adding to our total points tally. We were racing away with the game setting the tone for the first half with more than 5 minutes to play. Our defence was only getting better as Ruturaj chipped in with some crucial tackle points.
Sunil Kumar was the center of our defensive performance as he raced to 4 tackle points. We went into the break with a comfortable 9-point lead.
Close Battle for the Win
Sachin Tanwar started where he left off in the first half, as he went in to raid and got a toe touch on Sachin Kumar to earn our first points of the half. Subham Palkar was given a chance to go in for a Do-or-Die raid and with a cheeky toe touch on Jeeva Kumar added another point. However, as the half went on our lead was cut down to 4 points, courtesy some impressive raiding from Shrikant.
With 10 minutes to go in the match, Yoddhas were able to inflict an all-out and take the lead. In the very next raid Sachin Tanwar managed to get 2 points and restore our lead as he evaded a tackle to reach the centerline. Sunil Kumar reached his second High 5 of the season with a tackle on Shrikant Jadav to keep the game close.
With 5 minutes to go, we were all tied up at 27-27. Ruturaj had yet another block on Sachin Kumar to show his incredible strength. The Yoddhas held a slender lead of one point with 3 minutes to go in the match. Rohit Gulia was entrusted with the responsibility of getting us back in the game and he did just that and got us a valuable point to keep the score level.
With a minute to go we were able to get another all-out on UP and gain our lead back. With a 5-point lead secured we were able to take the game out of their reach and race home to yet another victory.