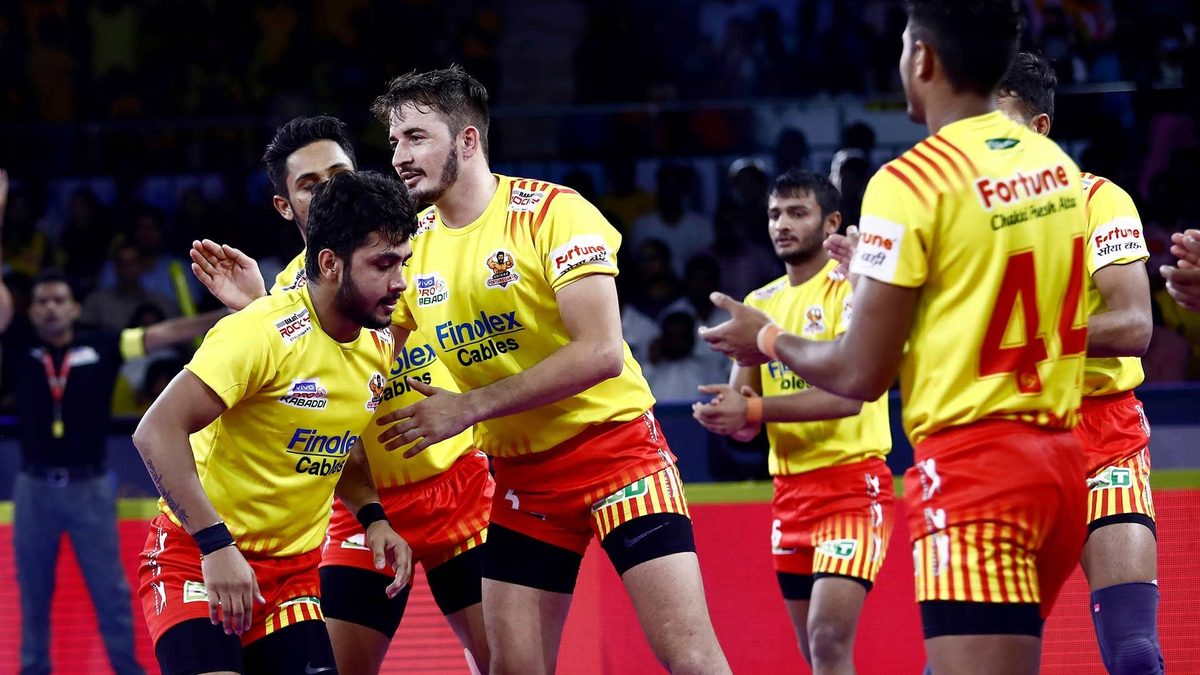 The Giants climbed to the top of the table after a thumping 44-19 win over U.P. Yoddha at the Gachibowli indoor stadium in Hyderabad. Rohit Gulia took 11 raids points, while our lethal cover defender Parvesh Bhainswal completed his High Five as we produced another commanding display in front of the rapturous Hyderabad crowd.
We started off in fine fashion as Sachin Tanwar picked two raid points inside five minutes to give us a 4-1 lead. After Sachin's two successful do-or-die raids, Rohit Gulia stole the show, starting with some crucial raid points. We went 12-5 ahead when Rohit inflicted the Yoddhas first all-out of the game in the 12th minute.
While the raiders were in full flow, the defence also decided to join the party, making it impossible for Monu Goyat and Shrikant Jadhav to run away with easy points.
Parvesh Bhainswal was compact in defence and was ably supported by the young corner defenders Ankit and Sumit. The Yoddhas responded with some important tackle points in the closing stages of the first half but that didn't help their cause much. We soon inflicted the second all-out to take an unassailable 19-9 lead at half time.
Importantly, we didn't let our momentum slip away in the second half and our attack and defence looked even more threatening. Parvesh completed his High Five after a crunching tackle on Shrikant Jadav, while Rohit Gulia continued to show his raiding prowess in the do-or-die raids.
After some impressive raids, Rohit completed his first Super 10 in the VIVO PKL. After inflicting Yoddhas' third all-out of the match, Super-Sub, Sonu Jaglan, produced another mind-boggling Super Raid, much to the delight of coach Manpreet Singh. We kept up the intensity until the final whistle to defeat the Yoddhas comprehensively, thus climbing back to the top the VIVO PKL table for the second time in Season 7.
Full-Time: 44-19
Defender of the match: Parvesh Bhainswal
Game Changer of the match: Rohit Gulia
With two stunning wins in the VIVO PKL Season 7, the Hyderabad leg was a massive success. We start off the Mumbai leg when we face Dabang Delhi on August 1st at the Sardar Vallabhbhai Patel Indoor Stadium.