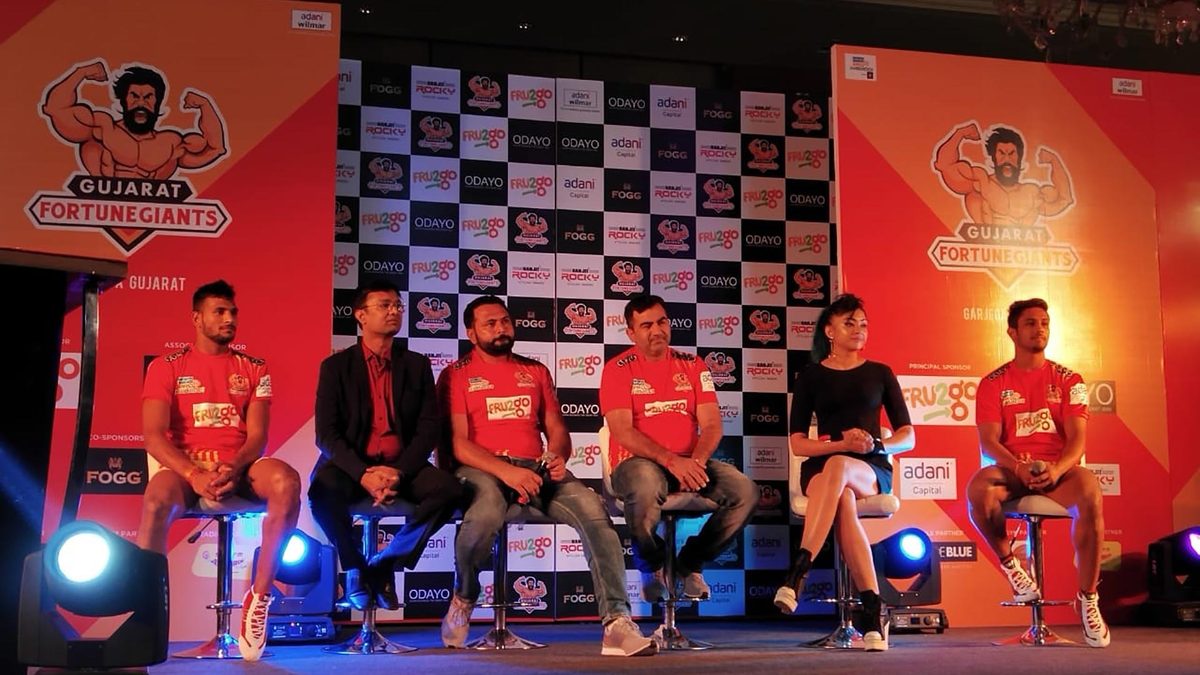 Season 5 debutants, we went all guns out in the finals with Patna Pirates but failed to clinch the trophy by a close margin. Though there are fans who voiced their opinions about the new young team we have built for the upcoming season coach Manpreet Singh believes that we have put together a squad consisting of very skilled and value for money players. His thoughts on the team selection were "The players are certainly new to the team and league but not to the sport".
On Tuesday, 25th September 2018, we launched our new merchandise and jersey colors for Season 6. The launch event witnessed a well-known fitness expert, Sapna Vyas Patel. Retained and emerging players, Rohit Gulia and Sunil Kumar graced the event along with coach Manpreet Singh. When asked about the future of Kabaddi in the state of Gujarat, coach Manpreet Singh said "Our team has conducted school and college leagues in various states of Gujarat and around 2000 kids participated in it and showed some exceptional skills. So, I guess the day isn't too far when you will start seeing players from Gujarat playing in Pro Kabaddi League"
While Manpreet Singh answered few more questions about the preparation of the team and his vision for Season 6, Sapna Vyas Patel shared her thoughts on her association with the team. Before we get into what Sapna has to say, here's a quick sneak peek on Sapna Vyas Patel and why she's considered as an inspiration by many:
An American Council on Exercise (ACE) certified weight management, fitness and nutrition specialist, Sapna Vyas Patel, is the most sought-after professional health coach and model in India. At the age of 19 she weighed over 80 Kgs and underwent a huge amount of mental and physical ordeal to look reduce her weight. As a teenager, a stranger addressed her as the mother of her nephew at an ice-cream parlor; embarrassed by the misidentification she decided its time for her to transform and take fitness seriously.
Widely known as "Coach Sapna", she shot to fame after she decided to use the social platforms to inspire her followers and shot a video of her training and urging people to follow a diet routine. The video soon became viral and gained an immense fan following for her. Apart from being a fitness trainer she's also a motivational speaker and has conducted numerous motivational sessions and conferences to spread the importance of Health.
At the launch event, when asked about her association with Gujarat Fortune Giants, she said "It's obviously a pleasure to be associated with team GFG. The coach has done a fabulous job in grooming the team and keeping them fit".
Our CEO, Mr. Sanjay Adesara, shared some thoughts of his own too on the association, "The GFG fashion merchandise launched today is for all the age groups and has various range of apparels. Since, Sapna Vyas Patel is a special name in the word of fitness, we thought she is completely apt for today's launch."