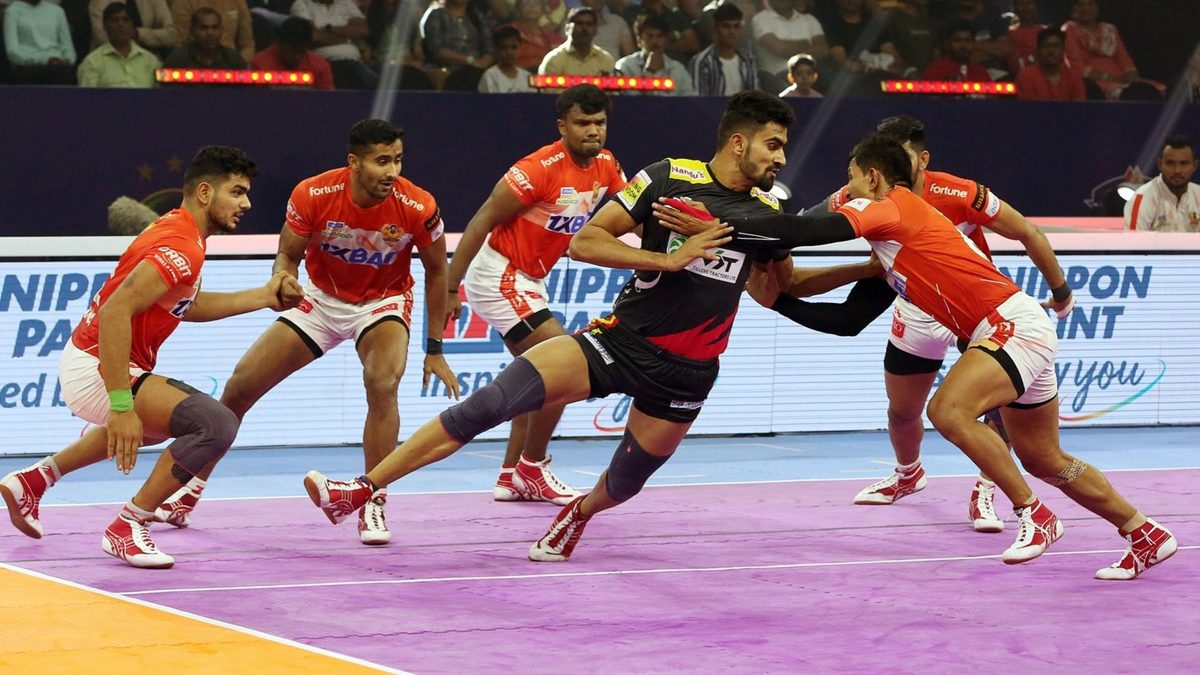 Gujarat Giants bounced back in an emphatic fashion as they defeated Bengaluru Bulls 46-44 in a thrilling Pro Kabaddi League (PKL) Season 9 fixture at the Shree Shivchhatrapati Sports Complex in Balewadi, Pune on Sunday, November 6.
Under head coach Ram Mehar Singh, the Giants rode on a sensational performance from all-rounder Parteek Dhaiya along with an impressive showing from star raider Rakesh to secure their fifth win of the season.
Parteek continued his splendid form as he picked 16 points including completing eight successful raids. On the other hand, Rakesh finished with yet another Super 10 including six touch points and four bonus points.
Rakesh looked fired up from the get-go, landing the touch points and picking up his raid points without much ado in the first half. His eight-point tally in the first phase ensured the Giants went into the break with a five-point lead and the momentum. Rakesh eventually got his Super 10, as the Giants edged ahead.
While Rakesh was leading the charge, it was Parteek Dhaiya, who had picked up his form in the recent games, providing able support. He inflicted a significant All Out on the Bulls midway through the first half to set the tone for the Giants.
In the second half, when the going got tough, Parteek turned up the ante, with a powerful four-point raid in the final minutes of the game. Parteek's tally of 16 was crucial to the Giants' victory.
Defenders Rinku and Manuj took their time to get into the game, but ended the first half with solid performances, helping keep the lead intact. However, the second half, the final ten minutes of the game, saw a fiery side to the duo, especially Rinku finishing with 4 points while Manuj bagged 3 more. Arkam Shaikh chipped in with a couple of solid tackles too, registering 2 points in what was eventually a good defensive performance.
With an impressive victory, the Chandran Ranjit-led Giants jumped to fifth in the Pro Kabaddi Season 9 standings with 31 points from 11 matches and also remained in contention for the playoffs.
Meanwhile, the Gujarat Giants will look to continue their winning momentum when they face Bengal Warriors in their upcoming PKL 9 fixture in Pune on Saturday, November 12.