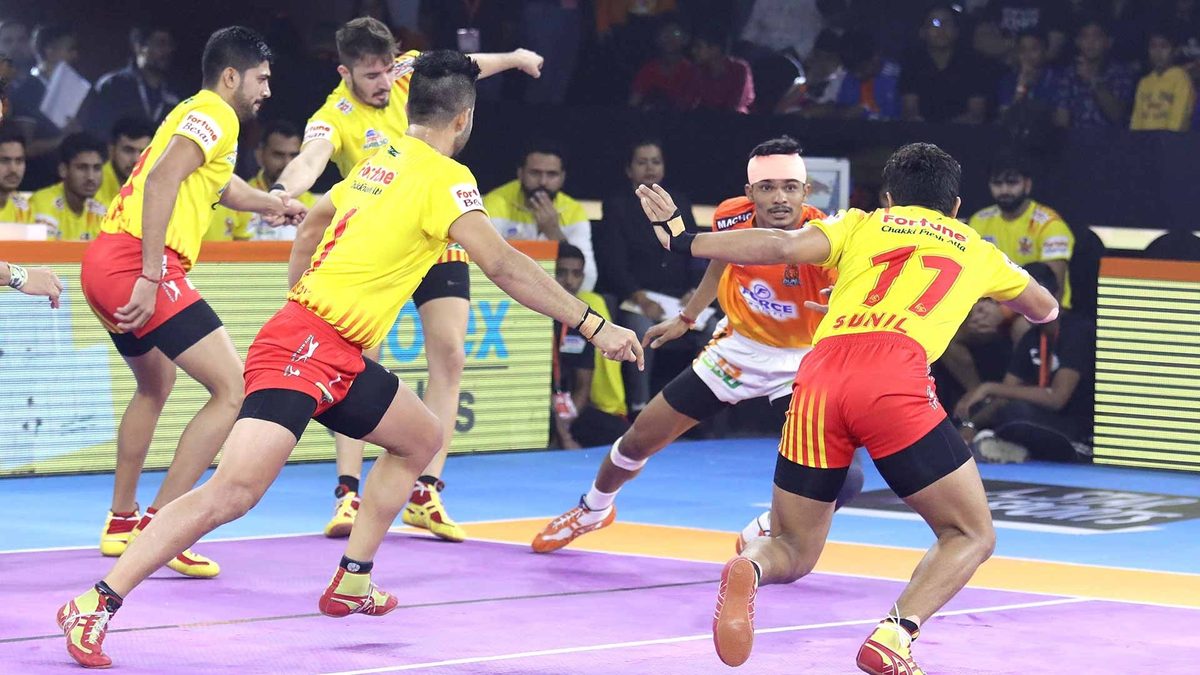 It was a forgettable night for the Gujarat Fortune Giants as they were outplayed by Puneri Paltan, 43-32 at Shree Shiv Chhatrapati Sports Complex in Pune on Saturday. Sachin Tanwar showed a lot of grit and determination in the second half and secured his second Super 10 of Season 7.
Harmanjeet Singh and Lalit Chaudhary were named in the Starting Seven in place of Sonu Jaglan and Rohit Gulia.
With attack and defence working in tandem, Puneri Paltan got off to a flying start and raced to a 6-0 lead within five minutes. We opened our account in the 6th minute after Sumit and Lalit Super Tackled Pankaj, but that wasn't enough for our revival, as Manjeet and Nitin Tomar continued to dominate proceedings.
Manjeet took out Ankit with a running hand touch, and Puneri Paltan inflicted our first All-Out in the 8th minute after Rohit Gulia was tackled by Balasaheb Jadhav.
Parvesh Bhainswal tackled Manjeet for the first time with a double thigh hold before Sachin Tanwar and Rohit Gulia got two quick raid points. Sunil Kumar registered his first tackle point but that didn't affect Puneri Paltan's momentum, as they continued to hold the upper hand throughout the first half.
Manjeet reduced us to just one man at the stroke of half-time after tackling Lalit Chaudhary and taking down both Sunil Kumar and Pankaj in the following raid. We went into the break trailing at 24-10.
The second half started with a surrender raid and the Paltans took a massive lead of 27-10 after enforcing our second All Out. Despite the contest looking like a one-sided affair, the Giants staged a good fightback in the final 15 minutes, courtesy of Sachin Tanwar's brilliant raids and some good tackles by our defence.
Balasaheb troubled Sachin all night but the raider finally got him in the 26th minute before sending Surjeet Singh and Girish Ernak in successive raids. The Paltan's defence, at one point, couldn't withstand Sachin's pressure making multiple errors.
Sachin showed sheer power when he back-tracked and escaped from the challenge of Hadi Tajik and Manjeet. He continued to put pressure on the opposition and thus inflicted the Paltan's first All-Out after Ankit tackled Amit Kumar in the 37th minute.
Sachin got his second Super 10 of the season after taking down Girish Ernak, and in the end, we lost to Puneri Paltan by an 11-point margin.
Full Time: Puneri Paltan 43-32 Gujarat Fortune Giants
After a tough night, the Giants will step on the mat in 24 hours to take on the table-toppers, Dabang Delhi, at the Shree Shiv Chhatrapati Sports Complex in Pune.