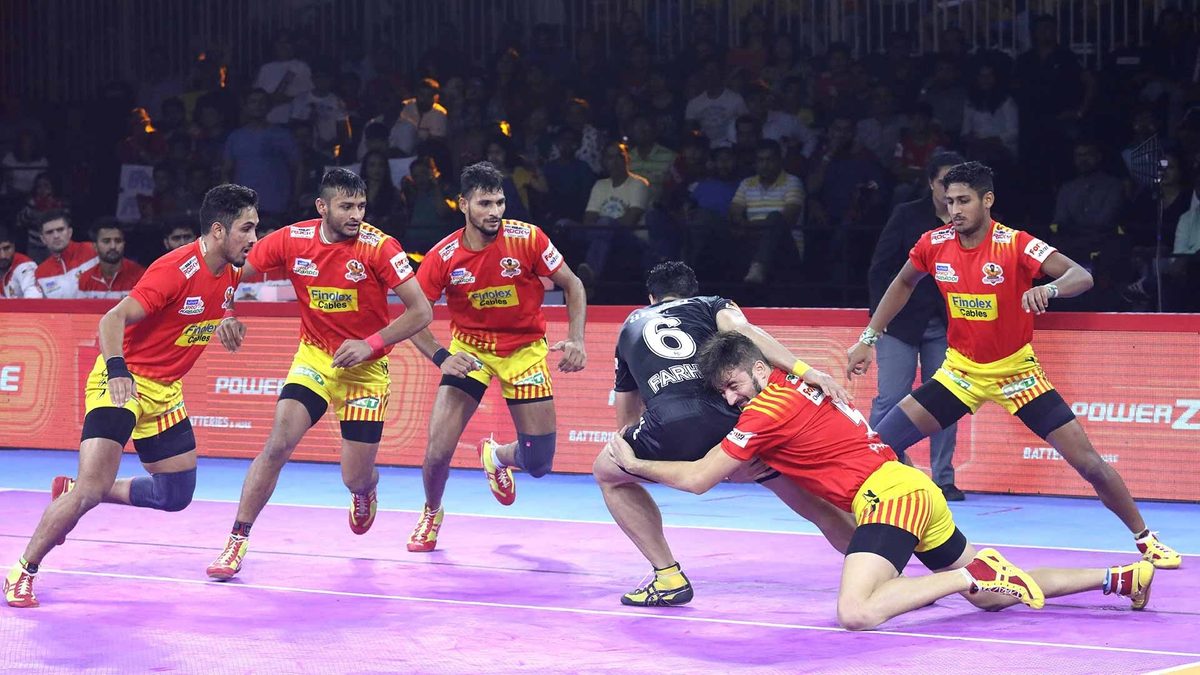 In our final match of VIVO Pro Kabaddi League Season 7, our Giants will lock horns with Telugu Titans at Shaheed Vijay Singh Pathik Sports Complex on Monday. After dominating the last two seasons, the Giants have had a rollercoaster of a ride in Season 7, and will be keen to beat the Titans and finish the tournament on a positive note.
Having established our supremacy against Haryana Steelers and Patna Pirates in the first half, the Giants failed to carry forth the momentum into the second period and lost both matches in a gut-wrenching manner.
We have to put both losses behind us, and Manpreet will surely be marshalling his troops to focus only on our final match of the season.
Our attack, led by our captain Rohit Gulia, has been magnificent in the recent matches. Our new raid partnership of Rohit Gulia and Sonu Jaglan have wreaked havoc for the opposition defenders ever since Manpreet has rested his faith in this duo and named them in the starting 7. They will look to keep up their fine form and trouble Telugu Titans' corner defenders Vishal Bhardwaj and Abozar Mighani.
From rescuing the team with stunning Super Tackles, to keeping the defence under pressure with his strong raids, More GB produced a brilliant all-round performance against the Pirates. He will definitely be a force to reckon with.
There is no doubt that few defensive errors from Ruturaj Koravi and Pankaj in crunch moments proved decisive in the outcome of the match against Haryana Steelers and Patna Pirates. They will look to rectify the errors and pose a strong challenge to Siddharth Desai.
The new cover combination of Parvesh Bhainswal and Amit worked well in the Haryana leg, but they failed to show their prowess against Pardeep Narwal yesterday. Being an experienced defender, Parvesh will have to step up if we are to challenge the Telugu Titans' raiding unit. Parvesh has already produced a masterclass performance against the Titans in Ahmedabad, notching up 7 tackle points, and could do with another tomorrow. Our experienced defender will renew his battle with Siddharth Desai and it will be interesting to see who comes out on top in Monday's encounter.
Key Giant
Rohit Gulia
With 133 points in 21 matches, he has been a strong pillar of support for us in Season 7. There is no doubt that Rohit's form will be pivotal for us if we want to emerge victorious in our final game of Season 7.
Telugu Titans always pose a strong defensive threat, with the experienced Abozar Mighani and Vishal Bhardwaj in the corner positions, and though Rohit scored only 5 raid points in the previous outing against the Titans, we believe that he will come up with a strong performance one final time in Season 7.
Head-To-Head
We have a 2-1 record against the Telugu Titans in VIVO Pro Kabaddi. Even though Telugu Titans defeated us this season, we definitely have an upper hand heading into this match. If our defence fires along with the attack, we will beat them on Monday.
Predicted Line-up
Rohit Gulia ©, Sonu Jaglan, More GB, Parvesh Bhainswal, Amit Kharb, Pankaj, Ruturaj Koravi