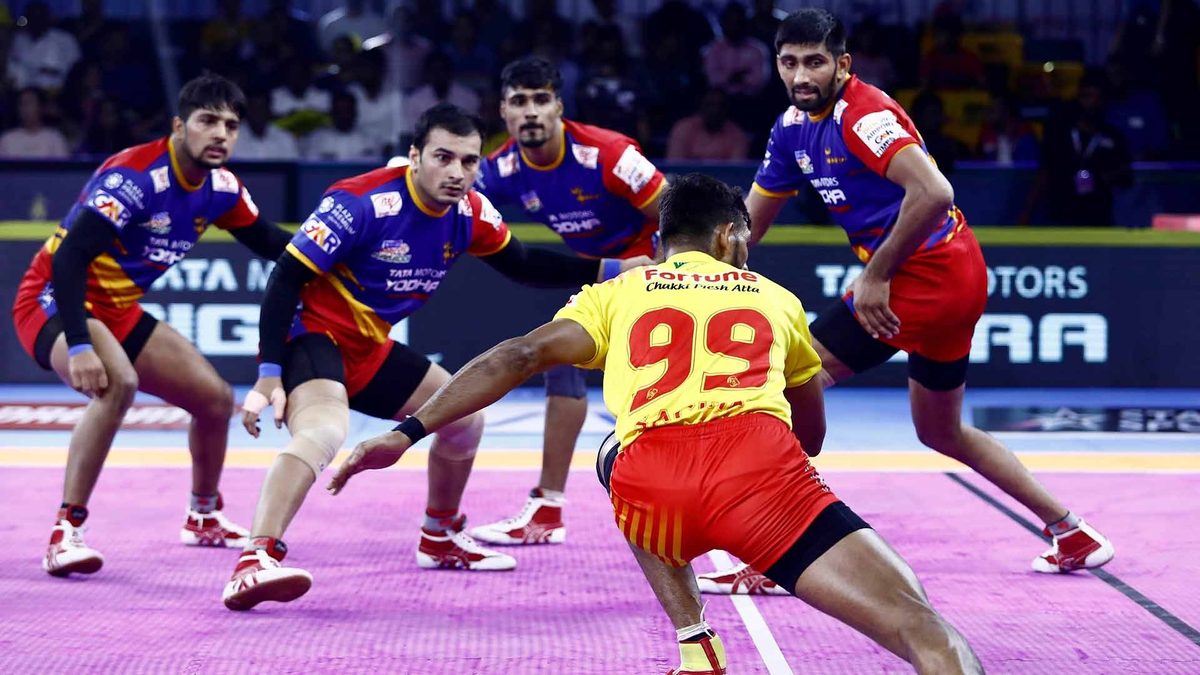 After a thrilling tie against the Bengal Warriors on their home turf, the Giants will square off against an in-form U.P Yoddha side at the Netaji Indoor Stadium in Kolkata on Monday.
There is no doubt that Manpreet's young troops have responded well after six losses on the trot, and beating a top side like U.P Yoddha would definitely plant a few more seeds of confidence in their minds. The steely determination and never-say-die attitude by our Giants has always been evident in all our matches in Season 7, despite the fact that most of the outcomes didn't go in our favour.
After losing six matches on the trot, Manpreet has been strategically smart and our beloved coach's decisions have paid dividends in recent matches.
Coach Manpreet opted for the trusted starting seven against Bengaluru Bulls, even though Sumit and Ankit have had a shaky start to Season 7. His move worked wonders as both played their part in doing the double over the defending Champions.
Against Bengal Warriors, we witnessed another Manpreet masterstroke as Sonu Jaglan was named in the starting seven in place of our leading raider, Rohit Gulia. Sonu justified his faith with a stunning Super Raid in the first half, and as the Bengal defence began to get an upper hand on our raiders, Manpreet introduced Rohit Gulia in the second half to devastating effect.
Rohit's well-crafted raids proved to be a nightmare for the Bengal defence, and there is no doubt that his introduction completely turned the tide in our favour.
The biggest question heading into Monday's match is that what will Manpreet's Line-Up look like when the Giants face the Yoddhas in Kolkata.
Our Giants crushed them in their previous meeting in Hyderabad, courtesy of Rohit Gulia's Super 10 and our rock-solid defender Parvesh Bhainswal grabbing a High Five.
Sunil was constantly targeted by Maninder Singh in Saturday's encounter. He will have to come back stronger if he is to give Shrikant Jadhav & Co. a hard time. Sumit and Ankit will occupy the corner positions, while the biggest question is whether Sonu Jaglan gets the nod ahead of More GB in the starting seven.
Sachin Tanwar and Rohit Gulia decimated Yoddhas' defensive unit in the previous match, and they will once again look to get the better off Nitish Kumar and Sumit.
Key Giant

Parvesh Bhainswal
When Parvesh plays at his very best, he can destroy any opposition attack with his timely body blocks and stunning ankle holds. We saw the best of Parvesh against UP Yoddhas in the last outing, where he showed no mercy to Shrikant Jadhav and Monu Goyat, constantly pinning them down with great tackles.
Even though he has struggled to find consistency, we are confident Parvesh will raise the bar and once again reign over the Yoddhas' raiding force.
Head-To-Head

We always had an upper hand against the Yoddhas in the VIVO Pro Kabaddi League. In our four matches against them, we have won three, while a nerve wracking match at Sonepat ended in a tie.
The Yoddhas are in a three match winning streak, so it definitely won't be straightforward for the Giants, unlike the last time we met. We will have to fight tooth and nail to get all 5 points tomorrow.
Predicted Line up

Manpreet could opt for the same starting seven that comprehensively defeated the Yoddhas in Hyderabad.
Sunil Kumar ©, Sachin Tanwar, Ankit, Sumit, Rohit Gulia, More GB, Parvesh Bhainswal