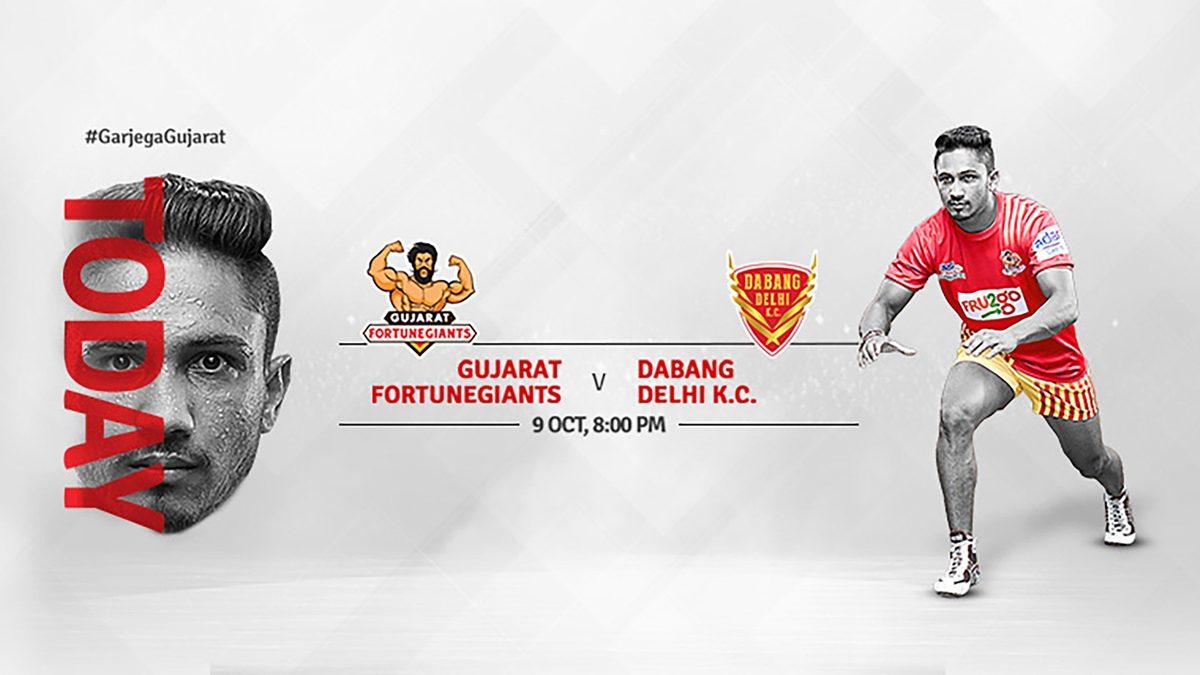 We're here at this juncture again, with the VIVO ProKabaddi League about to begin. Last year, we went into our debut season with the intention to give it our absolute all, and boy, did we do just that! As commendable as it was, we're not content with a runner-up finish. The ambition to clinch the title remains as strong as ever.
The coaching staff led by Manpreet Singh and Neer Gulia, the team management, and the Fortune Giants' players themselves, have left no stone unturned in terms of the effort put in ahead of the season.
Step out of your comfort zone and push your boundaries! 💪#GarjegaGujarat #MondayMotivation pic.twitter.com/cGb3zmwYqp

— Gujarat Fortune Giants (@Fortunegiants) September 10, 2018
The sixth edition of the VIVO PKL was to begin in October, but our training began as early as July, earlier than any of our rivals. With the VIVO PKL becoming a three-month long ordeal since the fifth season, a lot of emphasis has to be put on keeping the players' bodies, minds and fitness levels at an optimum level. The month-long strength and conditioning camp ensured just that.
Yoga se hoga! 🧘‍♂️

The secret behind our Giants' calm mind! 😊#GarjegaGujarat pic.twitter.com/Tt7nwEN6zG

— Gujarat Fortune Giants (@Fortunegiants) September 15, 2018
A short break followed, after which the team got together for another training camp in August. This time, the players honed their skills on the mat along with the occasional fitness routine.
The squad met again in September, this time for the long haul as the tournament was to follow the pre-season camp. With the season ever so close, the team morale has peaked. The dressing-room vibes are incredibly positive, and the players have great chemistry, which is always a good sign going into a marathon season.
Saturday hai, party toh banti hai! 😉#GarjegaGujarat pic.twitter.com/aNCY0mds3t

— Gujarat Fortune Giants (@Fortunegiants) September 1, 2018
Giants to Watch Out For
We all know that Manpreet Singh built this year's squad following the 'Moneyball' school of thought, (https://www.fortunegiants.com/features/vivo-pkl-2018-auction-building-a-team-the-moneyball-way) which means that we're not going to rely on the individual brilliance of one or two superstars. Rather, we're going to rely on many of our value players to do a job for us and work as a team. Having said that, there are a few players on our roster who could very well break the barriers of expectation and stand out among the crowd. Here is a look at the Giants the kabaddi fraternity should watch out for this season.
Sunil Kumar
When experienced and accomplished coaches such as Manpreet Singh and Neer Gulia trust a 21-year-old with the responsibilities of captaining our squad, you know there is something special about this kid.
Young team + Young Captain = Recipe for success! 🙌#GarjegaGujarat pic.twitter.com/sH7UlnpbIG

— Gujarat Fortune Giants (@Fortunegiants) September 29, 2018
What's heartening to see is that he's also got the backing of the squad. We're expecting wonders from this right cover defender. Get 'em, skip!
Sachin Tanwar
You don't score 173 total points in your first VIVO PKL season unless you're an exceptional talent. Can't argue against his retention, can you?
Sachin Tanwar was instrumental in getting us to the final in his and our debut season. Lots more to come from the youngster this time around!
Ruturaj Koravi
You might wonder what a VIVO ProKabaddi debutant is doing on the list of Giants to watch out for this season. Well, he's not just any debutant.
He's a debutant who was also our third costliest buy at the auction. He's a debutant who has come off some mind-boggling domestic performances including the Senior National Championship with Maharashtra. He's a debutant who is expected to own the right corner position and make life hell for opposition raiders. If all goes well, he's a debutant who could take the giants all the way and turn himself into a superstar this season.
Rohit Gulia
Rohit entered the ProKabaddi scene in the previous edition and showed us glimpses of his abilities. This season, Manpreet Singh has a lot of expectations from this promising all-rounder. Don't be surprised if he steals the show spectacularly!

K.Prapanjan
This uber-talented raider from Tamil Nadu has been around the ProKabaddi circuit since season 2. However, the previous edition was his breakthrough season as he amassed a 123 raid points in 22 games. The fact that he was our costliest buy at the auction speaks volumes about the faith our management has in him. With Prapanjan and Sachin at the helm, our raiding department is in safe hands.
We commence our VIVO ProKabaddi League Season 6 campaign against Dabang Delhi K.C. on October 9 at 8 PM and go on to play seven more matches before we head to Ahmedabad for our home leg that begins on November 16.
There have been no compromises made with regards to our preparation, and there will be no compromises with regards to hard work and commitment throughout the season. As always, along with your support, Gujarat Garjega!
The boss has set the ball rolling for #VivoProKabaddi Season 6. 😎#GarjegaGujarat pic.twitter.com/5ksDXO4urp

— Gujarat Fortune Giants (@Fortunegiants) August 3, 2018