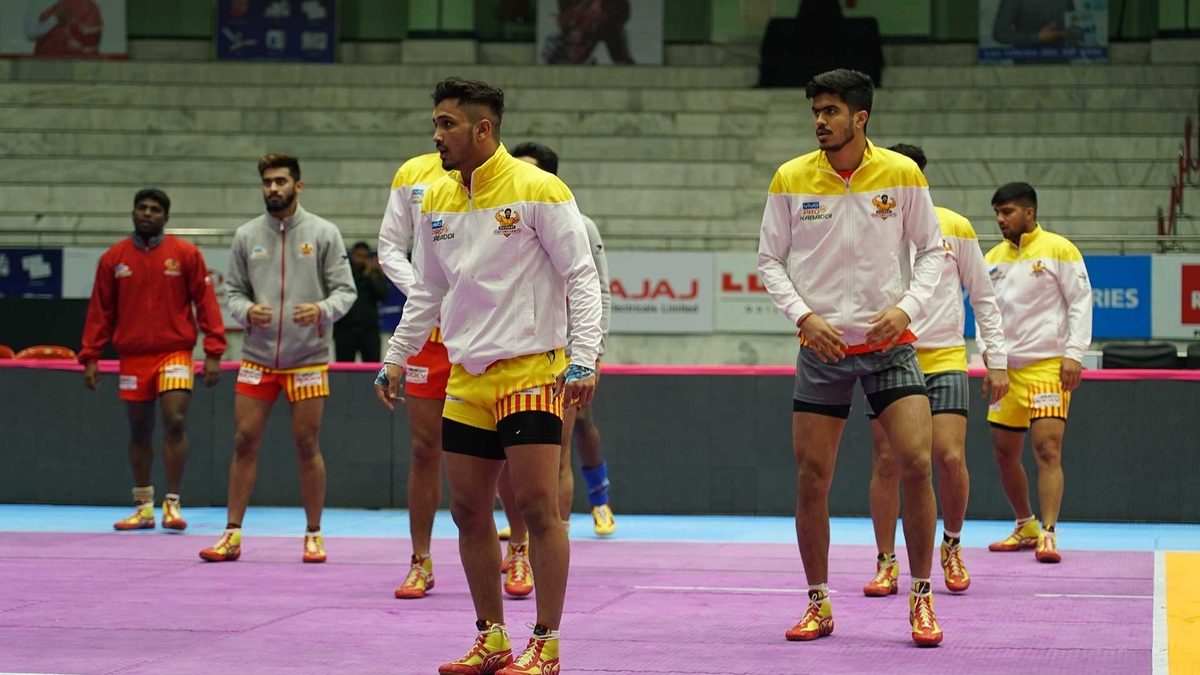 In our victory over Jaipur in our last match, we made a few errors that need to be corrected. It was not as clinical a performance as we have been accustomed to from our Giants. Even with a comfortable win over them in our last match we made a few errors and allowed them to keep it close — mistakes that coach Manpreet Singh will look to correct in our next match. He will not let complacency set into the team mentality as we approach the playoffs.
In our next encounter, we will meet Jaipur Pink Panthers again in our final Zone A battle. We will be playing them back to back at their home with us sitting two points off the top of Zone A. Our giants will have to win the match to go on top for the time being. We fought a close battle with them in our last match and will look to improve upon our performance. Parvesh Bhainswal will be looking to make the run for the top defender of the VIVO PKL 6. We will have to do a better job in containing their star raider Deepak Niwas Hooda. He was able to capitalize on our errors and get points for them. It will be an essential clash for us as we may have a great chance of topping the Zone.
Battle within Battle: Parvesh Bhainswal vs. Deepak Niwas Hooda.
The battle to watch out for! 🔥#GarjegaGujarat #NayaKhoonDugnaJunoon pic.twitter.com/GBXXKD319q

— Gujarat Fortune Giants (@Fortunegiants) December 18, 2018
Up until the last match Deepak Niwas Hooda had never been able to get better of the Parvesh Bhainswal. That changed in the previous encounter when Deepak escaped an ankle hold from Parvesh Bhainswal. Deepak has been the only shining star of what one may consider a bad season for Jaipur. His numbers speak volume about the effort he has had for them. On the other hand, Parvesh Bhainswal has been clinical for us. He is in the race to be the top defender of this season, which speaks volumes about his ability to go up against top raiders of PKL. When these two individuals go head to head in the next clash, they will give us some great moments in the match.
Key Giants
Sachin Tanwar
One of the consistent raiders of the VIVO PKL, Sachin Tanwar is averaging about 8 points per game. When he gets going, he gets points for us at will. His speed and agility are something many defenders have not been able to figure out so far. With every match, he is getting sharper with his raiding technique. Leave no doubt he will be one of the key Giants for us.
1. Prapanjan
With two Super 10s to his name this season, K Prapanjan has become a reliable raider for our Giants behind Sachin Tanwar. He has been improving on his performance with each game. However, he did not have a good performance in our previous match, something he will be looking to change with our next encounter to bounce back with a strong performance. He will play a crucial part in our game against Jaipur Pink Panthers.
VIVO PKL 6, Match 87: Jaipur Pink Panther Vs Gujarat Fortune Giants, 8 PM IST
Venue: TAU DEVILAL SPORTS COMPLEX, PANCHKULA
Broadcast: Star Sports Network