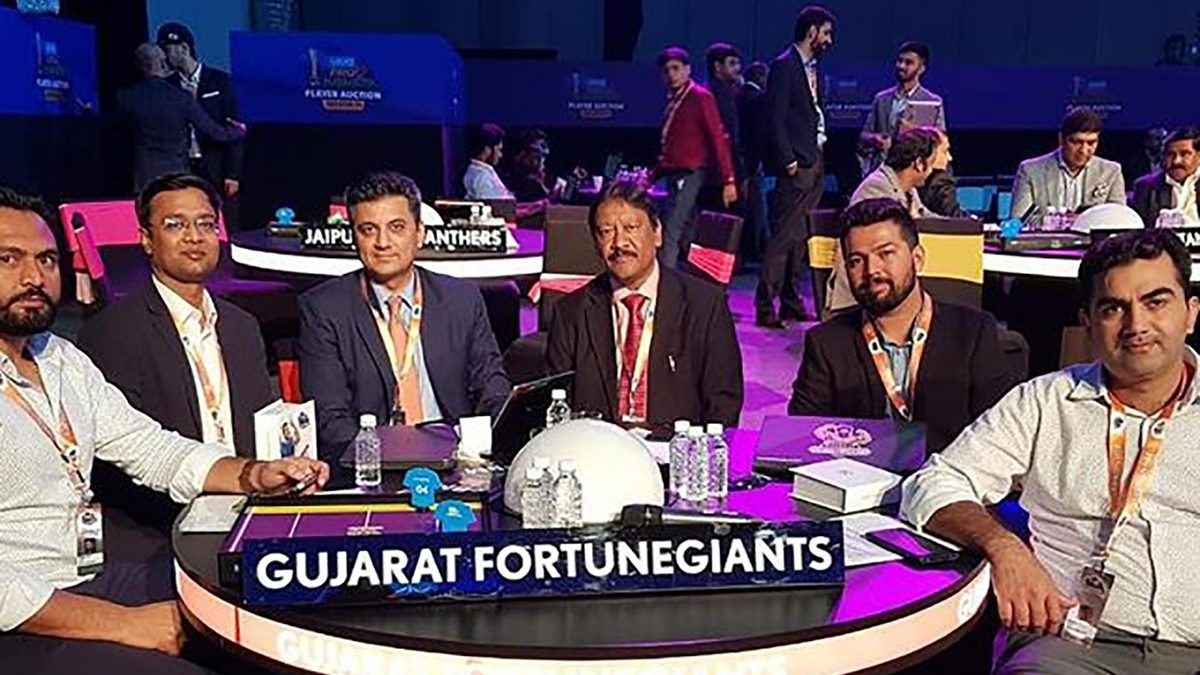 The story of how Billy Beane, the General Manager of the Major League Baseball team Oakland Athletics radically revolutionised the way players were drafted into professional baseball teams. Faced with the challenge of a shoestring budget, Beane decided to assess player value with hard statistics as opposed to the traditional methods scouts used – intuition, player potential and star value.

Going after high-profile and expensive players would have eaten into his budget and he wouldn't have been left with much to fill up the rest of squad with quality professionals. How is this Brad Pitt movie relevant to us, you ask? Let's delve right into it.
Ahead of the VIVO PKL 2018 auction, coaches Manpreet Singh and Neer Gulia along with the Gujarat Fortune Giants' management decided to create a core from the previous season's outfit. Thus, Sachin Tanwar, Sunil Gulia, and Mahender Rajput were retained. Sachin Tanwar had performed out of his skin in 2017, proving himself to be one of the top raiders. It was a good core to begin with, but there was a lot more work to be done in building a good squad.
Auction Day: Taking a leaf out of Billy Beane's book, Manpreet Singh had a clear formula. Value-for-money players > Big-money players.
While superstars of international kabaddi went for big bucks, we got into bidding wars only for two players. Dong Geong Lee and Hadi Oshtorak are from South Korea and Iran respectively, and were also a part of the teams that beat India to cause major upsets at the 2018 Asian Games. Dong was picked up for ₹ 17.2 lakhs while Hadi went for ₹ 12 lakhs. Both value buys, as these are talented players who can contribute a lot.

When Category A, the biggest names of Indian kabaddi went under the hammer, teams around us got into intense bidding wars breaking records virtually every other bid! A plethora of high-profile players crossed the magical ₹ 1 crore mark. But, our coaches and management wanted absolutely none of that.

With a total of 142 raid points to his name, K. Prapanjan is a huge prospect. He turned out to be our costliest buy of the auction at ₹ 38 lakhs. To put things into perspective, the most expensive buy of the auction was Monu Goyat, at a mind-boggling ₹ 1.51 crores, a staggering ₹ 1.13 crores higher than our costliest buy! Parvesh Bhainswal, a rapidly up and coming defender was bought back at ₹ 35 lakhs with the FBM card, a steal to say the least.
Talk about following the Moneyball school of thought!
The Category B auction didn't go any different. We got high-value players at affordable prices. Ajay Kumar with his skills in do-or-die situations could provide able support to our raiding unit. He became a Fortunegiant at just ₹ 25 lakhs. Ruturaj Koravi and Sachin Vittala aren't big names, but they show big promise having come into the team on the back of strong domestic performances. The fact that the management decided to shell out ₹ 30.4 lakhs and ₹ 20 lakhs respectively for Pro Kabaddi debutants, relatively high amounts considering our spending patterns in the auction, speaks volumes about the kind of value these two defenders are expected to provide to our outfit.

Now, let's go back to Moneyball. We've explained the philosophy that inspired Manpreet Singh and Co. to pick the squad the way they did. You must wonder, did that strategy work? What were the results? In short, it worked spectacularly!
At the beginning of the 2002 Major League Baseball season, not many thought that the Oakland Athletics would go anywhere with the team they had put together. On the contrary, with 20 wins back-to-back they went on to break the American League record for most consecutive wins. Skeptics and critics of the strategy then called it "the future of baseball".

This isn't to say that it will work as well for us. But, there is no reason it shouldn't. What if this is the future of kabaddi?
P.S. At the end of the season, we'll know if Brad Pitt is playing Manpreet Singh's role soon!
Our Squad for VIVO ProKabaddi 2018:
Raiders - Ajay Kumar, Dharmender, Dong Geon Lee, K. Prapanjan, Lalit Chaudhary, Mahendra Rajput, Sachin Tanwar, Shubham Ashok Palkar, Yashwant Bishnoi.
Defenders - Amit, Amit Sharma, C Kalai Arasan, Parvesh Bhainswal, Ruturaj Koravi, Sachin Vittala, Sunil Kumar, Vikram Kandola.
All-rounders - Anil, Hadi Oshtorak, Rohit Gulia.